Tag Archives: children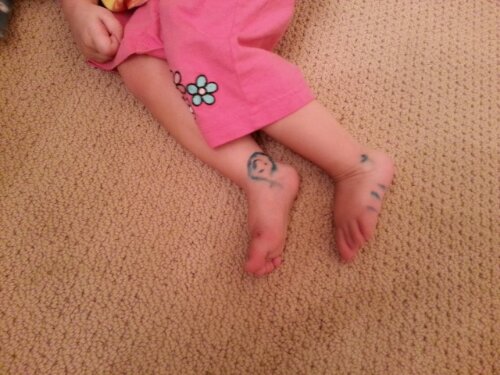 Little feet, marked for measurements, and a smiley face. Round one of my little girls corrective equipment collection begins.
Moved me to tears with her 19 month post for Maggie. I know she doesn't like a lot of attention drawn to herself or her blog, but I just had to share this post.
Poem from her post:
Special Child
by Sharon Harris
You weren't like other children,
And God was well aware,
You'd need a caring family,
With love enough to share.
And so He sent you to us,
And much to our surprise,
You haven't been a challenge,
But a blessing in disguise.
Your winning smiles and laughter,
The pleasures you impart,
Far outweigh your special needs,
And melt the coldest heart.
We're proud that we've been chosen,
To help you learn and grow,
The joy that you have brought us,
Is more than you can know.
A precious gift from Heaven,
A treasure from above,
A child who's taught us many things,
But most of all – "Real Love"
/begin spill
I'm not really sure where to start on this, but I feel compelled to talk about how incredible my wife is.
She consistently supports me when I feel like I'm in over my head. She allows me to lead, and remains respectful in her dissent. She maintains and controls what would other wise be anarchy in the home. She's an amazing mother, nurturing, and disciplining in equal and proper proportion. Selfless in her service to her family. She seeks to find what it is that brings myself and her children the most joy, and works towards those ends. Her love is a beautiful and humbling thing to behold.
My wife has a bead on me, and is truly my best friend. She challenges me to push beyond what I would normally settle for, and is continually used to temper and humble me. She's the one person I want to go to bed with, and the one person I want to wake up next to. I can't imagine being apart from her, or trying to face this world without her.
Do we fight? Yes. Do we always agree? No. Do we both love God and trust him to lead us? Yes. Do we face trials? Yes. Does that matter? Yes.
God knows what he is doing, and he knew what he was doing when he brought us together. It pains me greatly that knowing joy through my wife, and my children, I would so quickly have (and did at times) settled for less growing up. It also makes me realize, this joy pails in comparison to that which I will feel when in the presence of our father.
/end spill